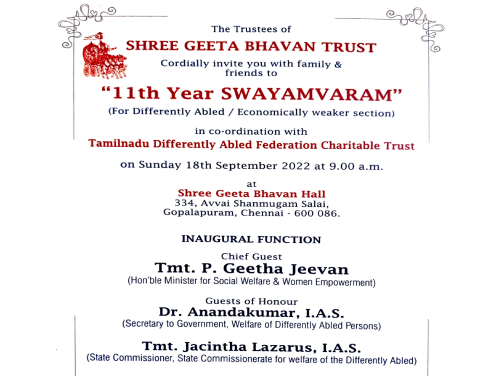 Date
Sep 26 - 27 2022
Expired!
11th Year Suyamvaram
11வது மாற்றுத்திறனாளிகளுக்கான சுயம்வரம் 2022
சென்னை ஸ்ரீ கீதாபவன் ஹாலில் 18.09.2022 அன்று நடைபெற உள்ளது.
11th Year Suyamvaram for Differently Abled to be held on 18.09.2022 at Shree Geetha Bhavan Hall, No.334, Avvai Shanmugam Salai, Gopalapuram, Chennai – 600 086. Hon'ble Minister Tmt.P.Geetha Jeevan (Minister for Social Welfare & Women Empowerment), Dr.Ananda Kumar I.A.S., (Secretary to Government, Welfare of Differently Abled Persons) & Tmt. Jacintha Lazarus, I.A.S., (State Commissioner, State Commissionerate for the Welfare of the Differently Abled will have presided over the function. Interested Persons with Disabilities may apply for Suyamvaram to select their life partner. The application may be Downloaded (Link).